THE TRANSCENDENTAL VIEW OF REALITY
AND THE ALLEGORICAL TRADITION
John Rupert Martin, Chapter 4
"The naturalism of seventeenth-century art is inextricably bound up with a metaphysical view of the world. It is for this reason that the familiar objects of visible reality may be looked on as emblems of a higher invisible reality." (Martin, 119)
ALLEGORY
A written, oral, or artistic expression by use of symbolic fictional figures (personifications) and actions of truths or generalizations about human conduct or experience.
Cesare Ripa, Iconologia (1593)
A dictionary (illustrated in later editions) of symbols, attributes, and personifications, arranged in alphabetical order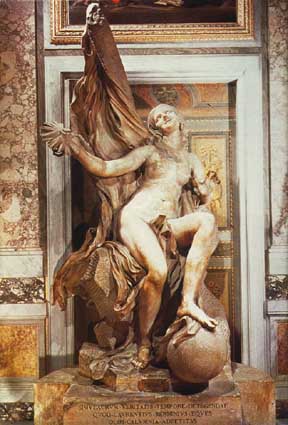 Gian Lorenzo Bernini
Truth Unveiled, 1646-52
(Rome, Borghese Gallery)
(SEE: Martin, page 275)
EMBLEM (Emblem book)
A picture with a motto or set of verses intended as a moral lesson or a subject of meditation (common in 17th century)
The name of "emblems" is usually given to simple allegorical designs accompanied by an explanatory motto and destined to teach in an intuitive form a moral truth.
Emblems originated as a humanistic attempt to give a modern equivalent of the hieroglyphs (as interpreted as a purely ideographical form of writing) with which the Egyptian priests foreshadowed divine ideas.
Andrea Alciati, Emblematum liber (1531)
Each emblem consists of a motto, a picture, and an epigram
---
CLASSICAL SUBJECTS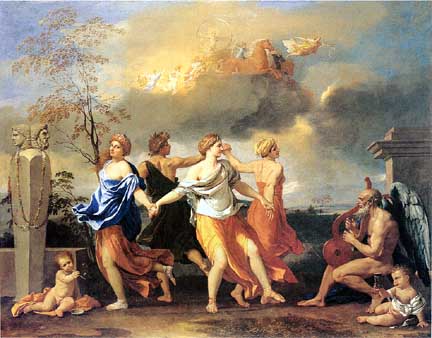 Nicolas Poussin
The Dance of the Music of Time
c. 1639-40
(Wallace Collection, London)
---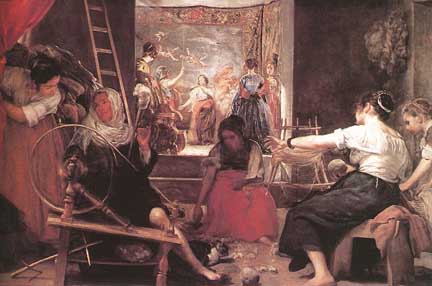 Diego Velazquez
The Fable of Arachne
c. 1657
(Madrid, Prado)

BIBLICAL SUBJECTS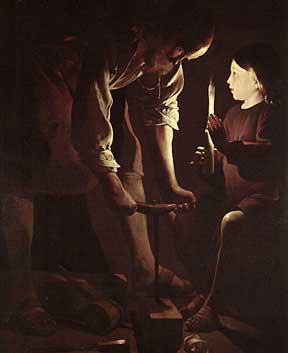 Georges de La Tour
Christ and St. Joseph
c. 1645
Paris, Louvre Museum)

GENRE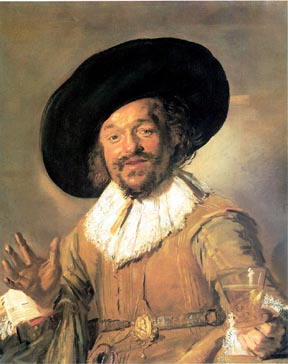 Frans Hals
The Merry Drinker
1628-1630
(Amsterdam, Rijksmuseum)
---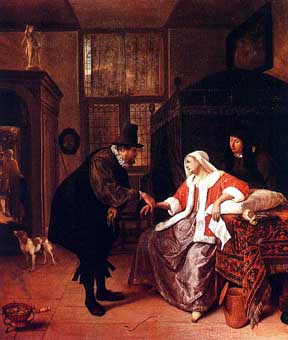 Jan Steen
The Lovesick Girl
c. 1660-1668
(Munich, Alte Pinakothek)
---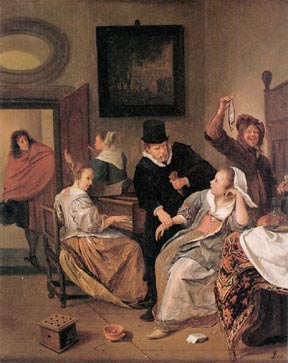 Jan Steen
The Doctor's Visit
c. 1663-1665
(Philadelphia Museum of Art)
---

Jan Vermeer
A Woman Weighing Pearls
c. 1665
(National Gallery of Art, Washington DC)
---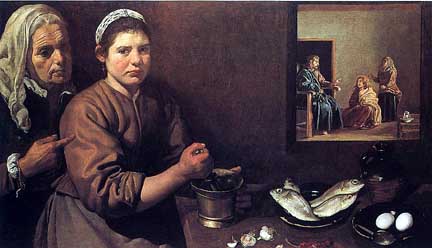 Diego Velázquez
Christ in the House of Mary and Martha
c. 1618
(London, National Gallery)

STILL LIFE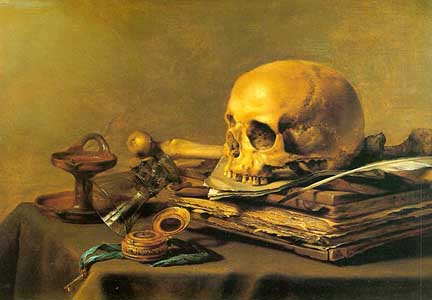 Pieter Claesz
Vanitas Still Life
c. 1630
(Mauritshuis, The Hague)

LANDSCAPE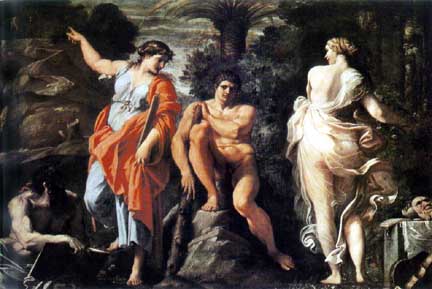 Annibale Carracci
The Choice of Hercules
c. 1596
(Galleria Nazionale di Capodimonte, Naples)
---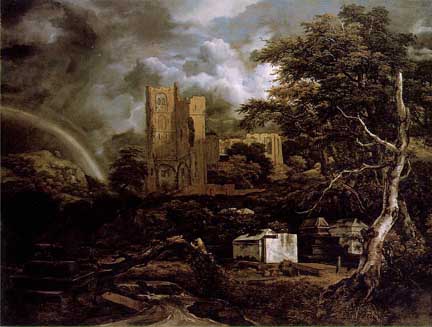 Jacob van Ruisdael
The Jewish Cemetery
c. 1657
(Detroit Institute of Arts)

THE EARTHLY APOTHEOSIS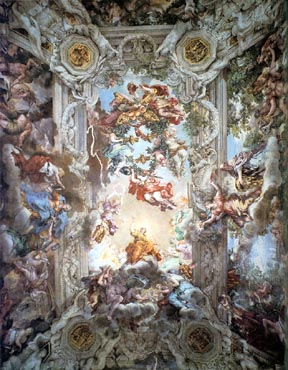 Pietro da Cortona
Glorification of the Reign of Urban VIII
1633-1639
Ceiling Fresco in the Gran Salone
Palazzo Barberini, Rome

ARCHITECTURAL SYMBOLISM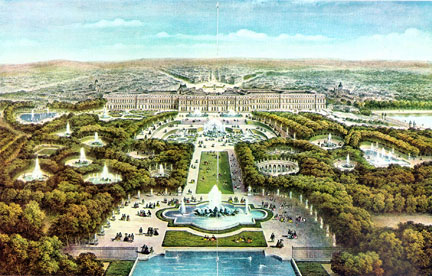 Louis Le Vau and Jules Hardouin Mansart
The Palace of Versailles
begun 1669
---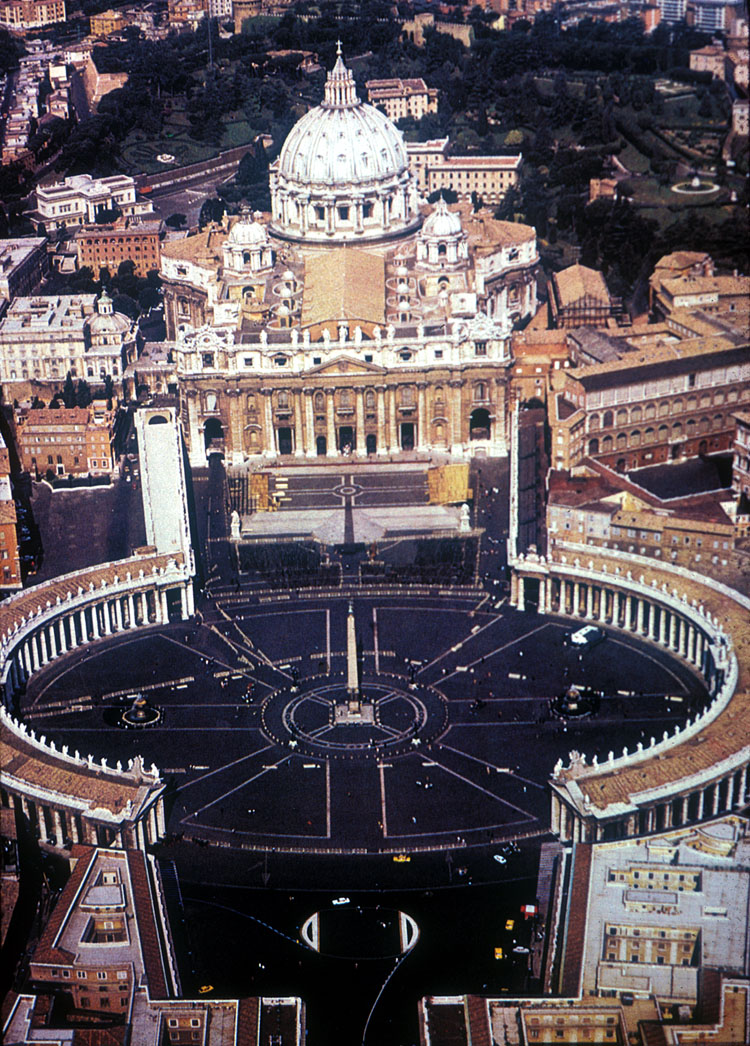 Gianlorenzo Bernini
Piazza of St. Peter's, Rome
1656-57