High Classical
c. 450-400 BCE
ACROPOLIS, ATHENS
The Acropolis, which rises 260 feet above city of Athens, was occupied as early as Neolithic period. It was fortified in the Late Helladic (Mycenaean) period. Most of the present buildings were constructed during the 5th century. These buildings have been much damaged on various occasions over the centuries.
Athens Acropolis Reconstruction in 3D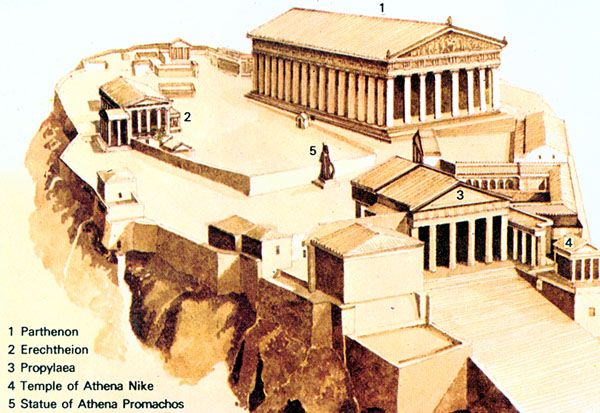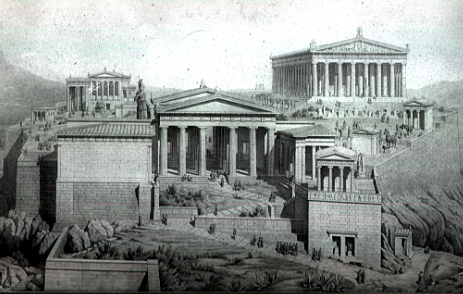 A Reconstruction of the Acropolis
The Acropolis was cleared and rebuilt in 19th century. The Temple of Athena Nike reconstructed, and a portion of the Parthenon. Modern reconstruction began in the 20th century with much of it completed before World War I, although Parthenon was not finished until 1933. In 1930s Temple of Athena Nike was again torn down and reconstructed. The reconstruction of the Acropolis was supervised by Nicholas Balanos who unfortunately used steel as concealed reinforcement. This has has since rusted, lost its strength, swelled and cracked the marble. The cracks allow further weathering. Further damage has been caused by air pollution (more in the last 40 years than in the last 400), and by the feet of visitors (4 million a year).
© Christopher L. C. E. Witcombe