The Aegean in the Third Millenium
c. 3000–2000 BCE
CYCLADIC SCULPTURE
The ancient Greeks called the small islands of the central Aegean "Kyklades" because they imagined them as scattered in a circle, a kyklos, around the sacred island and ancient sanctuary of Apollo, Delos (in myth, the birthplace of Apollo and his sister Artemis). This onomatopoeia is very evident today as one' s view from the island of Delos shows Mykonos to the east, Tinos to the north, Syros to the west and Naxos and Paros to the south.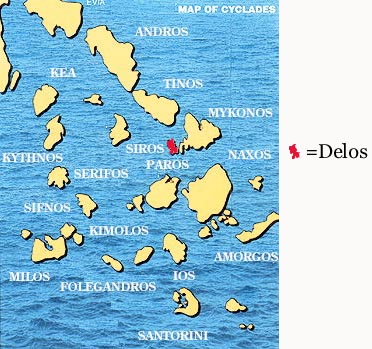 In the 3rd millenium BCE, the people living on the Cycladic Islands in the Aegean produced a large number of extraordinary statuettes of mostly female figures. Carved from white, almost iridescent marble quarried on the islands of Naxos and Paros, their simple forms give them an almost modern appearance.
During the Early Cycladic period (EC), statuettes with extremely simplified bodily forms were made from local coarse-grained marble (originally painted). The earliest (c. 3000-2500 BCE - ECI) are called Fiddle Idols because of their close resemblance to a modern violin in shape.


Cycladic Fiddle Idol
White marble
Height: 37/8 inches
A more naturalistic but still very stylized commoner type shows a woman (or occasionally a man) standing naked with the head tilted back and arms crossed over the chest. Both the head and the body a very flat. The head is characteristically oval in shape with a flattened top. The pubic triangle may be indicated, and breasts may be shown, but generally there is little emphasis on the female sexual characteristics. Several hundred of these figures have been found in tombs. The average length is about 12 inches.
In the EC II and EC III (c. 2500-2000 BCE) periods the size ranges from a few inches to life-size giants. A third class of Cycladic statuettes consists of musicians - standing pipers, seated lyre/harp-players.
A number of the figures have been grouped into types:
Plastiras type (sometimes mouth and ears modeled in relief); arms not folded; navel shown)
Spedos type ("folded-arms figurines")
Khalandriani type (more angular in shape with a square torso).
---
---

Cycladic figures and head
Spedos type. EC II
Marble
Height of larger figure: 25 inches
(Museum of Cycladic Art, Athens)

---

Female statuette
2700-2300 BCE
Marble
(Museum of Cycladic Art, Athens)

---

Statuette of a woman
c. 2600-2400 BCE
Marble
Height 24 3/4 in.
(The Metropolitan Museum of Art, New York)

---

Cycladic figurine
Early Cycladic period (2800-2300 BCE)
Marble
(National Archaeological Museum, Athens)

---

Cycladic Lyre Player from Keros
c. 2700-2500 BCE
Marble
approximately 9 inches high
(National Archaeological Museum, Athens)

---

Statuette of a seated harp player
c. 2800-2700 BCE
late Early Cycladic I-Early Cycladic II
Marble
height with harp 111/2 in. (29.21 cm)
(The Metropolitan Museum of Art, New York)

---

Head of a large female statuette
2700-2300 BCE
Marble
Height 27 cm (101/2 inches)
(Louvre Museum, Paris)
© Christopher L. C. E. Witcombe