The Fourth Century
c. 400-300 BCE
Theatre, Epidauros
early 3rd century BCE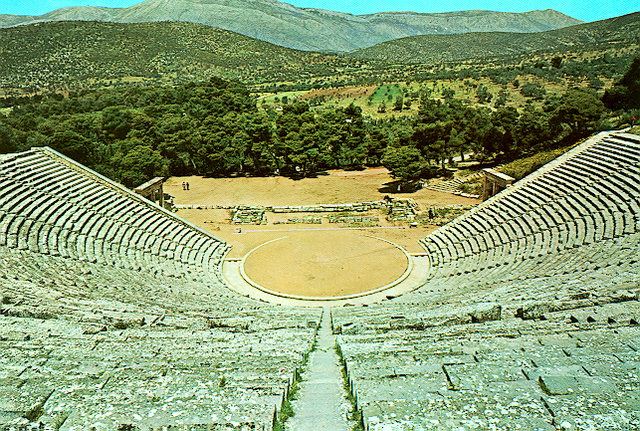 Theatre, Epidauros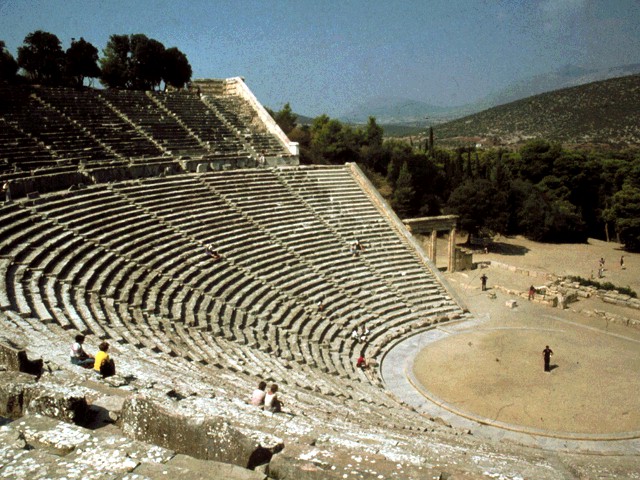 Theatre, Epidauros
The theatre is part of the Sanctuary of Asklepios at Epidaurus which was one of the most celebrated healing centres of the ancient world.
The theatre, which is built into a hillside, is comprised of three basic parts:
cavea
orchestra
skene (stage-building)
The lower of the two diazomata (sections) of the cavea is divided by 13 stairways into 12 cunei (with 34 rows of benches). The upper of the two diazomata is divided by 23 stairways into 22 cunei (with 21 rows of benches). The 55 rows of stone seats could accomodate up to 12,000 people.
The stage-building included a main room with four pillars along the central axis, and one square room at each end. The proskenium had a facade with 14 half-columns against pillars. Two ramps on either side led to the stage while monumental double gates stood at the two entrances. The dramas, associated with the cult of Dionysos, were enacted in the circular orchestra.