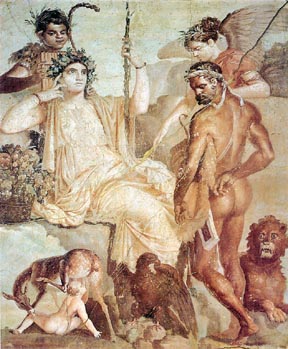 Herakles finds his son Telephos
Roman version of a Greek original of the 2nd century BCE
wall painting from Herculaneum
(National Museum, Naples)
This wall painting is thought to be a copy of a lost Pergamene painting. The subject is the discovery of the child Telephos by his father, Herakles. Telephos, a minor figure mentioned in Trojan War stories whom the people of Pergamon had adopted as the mythical founder of their city, had been exposed on an Arcadian mountain as an infant and reared by wild animals. Telephos is shown here being suckled by a doe.
A winged figure is pointing out the child to Herakles, whose expression shows the moment of recognition of his son. To the left sits a colossal personification of Arcadia, an impressive female figure who stares off into the distance. A satyr stands behind her. On the floor is a basket of fruit, an eagle, and a shaggy lion - all probably references to Arcadia and its guardian deities.
The painting shows an interesting combination of styles. Arcadia's form is defined more by line, whereas Herakles is treated in a much more painterly fashion.
---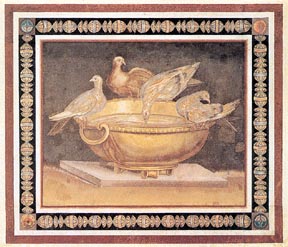 Doves
Perhaps based on an original by Sosos in the 2nd century BCE
2nd century CE
Mosaic. 333/5 x 331/2
(Capitoline Museum, Rome)
---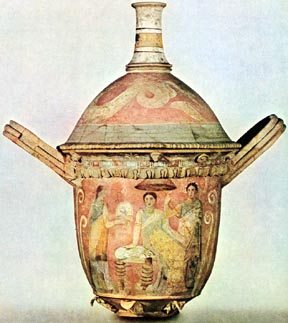 Centuripe Vase
Lady and Maids
Polychrome funerary vase made in Sicily
painted after firing
3rd century BCE
Height 22 inches
(Institute of Classical Archaeology, University, Catania, Sicily)