Aerial View of Mallia
As at Knossos and other Minoan palaces, the rooms, magazines, and corridors of the palace were arranged around a rectangular central court. At Mallia, however, there were more utilitarian work rooms, storage rooms, and grain silos and fewer luxurious private rooms which gives the Mallia palace more of a country villa or farm estate character.
Plan of the Palace at Mallia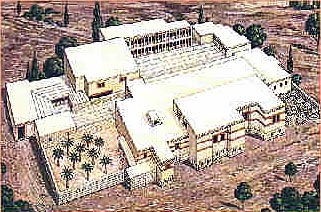 Reconstruction of the Palace at Mallia
---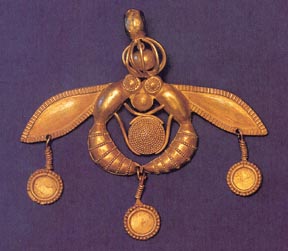 Bee Pendant
from Mallia
MM III
gold
Height 13/5 inches
(Archaeological Museum, Herakleion, Crete)

This gold pendant is composed of two hornets holding a honeycomb. Three disks are suspended below. The goldwork employs the techniques of filigree (thin metal wire used decoratively), embossing (the surface of the metal is raised into projecting areas), and granulation (tiny globules of gold affixed decoratively to the surface).