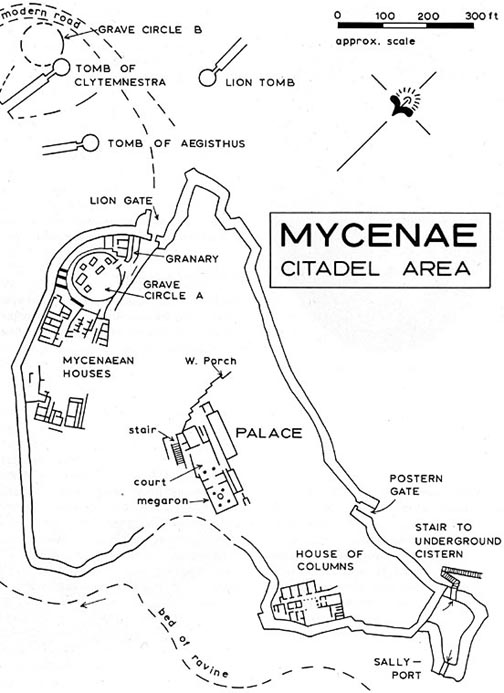 Plan of Mycenae
The citadel of Mycenae was built on a hill with a commanding view of the plain of Argos. Within massive fortifications the citadel were built a palace and other buildings. Most of the rest of the town, however, lay outside the walls. In about 1250 BCE, the walls of the citadel was extended to the northeast to include Grave Circle A (which was originally outside the citadel) and the famous Lion Gate was built. Fifty years later, around 1200 BCE, the wall was extended again to incorporate the water supply.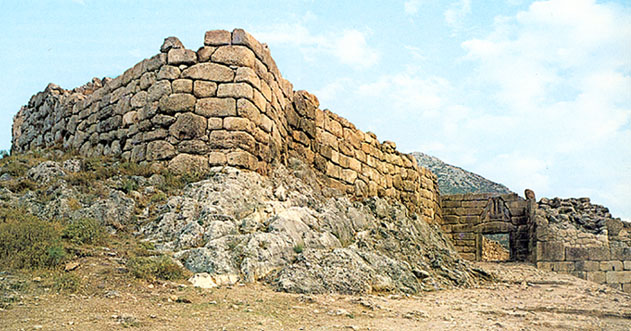 View of the walls of Mycenae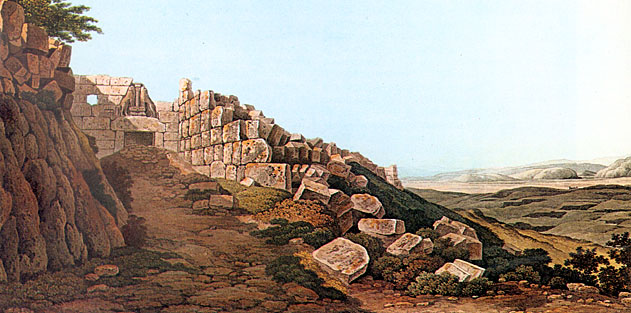 View of the walls of Mycenae in the early 19th century
(tinted drawing in E. Dodwell, Views in Greece,1821)
The palace was sited on top of the hill within the citadel and included a rectangular megaron with the entrance in the centre of the short side. A porch with two columns in antis (i.e., between the antae or the broadened ends of walls) led to a vestibule and thence to a large hall with a throne, a hearth, and columns.
On the slope of the hill outside the palace was a shrine area where a cult room embellished with a staircase, columns, and platforms was located. On one of the platforms evidently stood a female terracotta figurine almost two feet high.
Sixteen other female idols of the same size or smaller, plus a pair of coiled terracotta snakes, were in another chamber nearby. A chamber connecting the spaces was decorated with frescoes that included a woman holding what may be wheatsheaves. Elsewhere, the decorations included a frieze of solid discs beneath Minoan-style "horns of consecration." An L-shaped third room contained vases, some partly carved ivories, and a shrine with figures painted on a platform in one corner.
---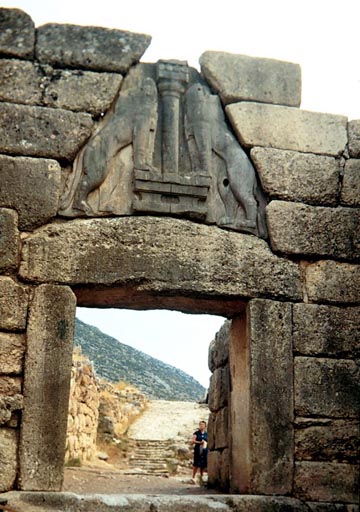 Lion Gate at Mycenae
c. 1250 BCE
The entrance to the citadel of Mycenae is through the Lion Gate. It is defended by a bastion which projects forward for some 15 yards (14 m) on one side, parallel to the line of the wall itself on the other.
---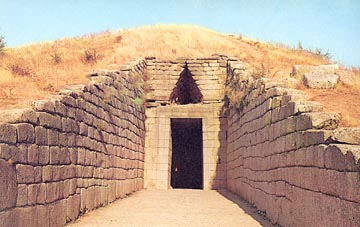 The Treasury of Atreus
Mycenae
c. 1250 (LH IIIB)
At Mycenae a new type of tomb appears in the form of domed stone chamber sometimes termed a beehive tomb or a tholos