Temple of Apollo
at Didyma
c. 330 BCE and later
Height (columns) 64 feet 6 inches
Hellenistic temple architecture is marked by size. The Temple of Apollo, Didyma in Turkey (begun c. 330 BCE and left unfinished) stands in the tradition of huge religious buildings of Archaic Ionia. One of the largest and most grandiose temples ever built, it stands on a high podium with double rows of 10 columns at each end and 21 along flanks (all about 60 feet high). In the cella, which was open to the sky, stood a small tetrastyle free-standing Ionic shrine for the cult statue of Apollo.
The walls of this open court (in which were planted trees and contained an oracular spring) on three sides were ornamented with pilasters. On the fourth side, opposite the entrance to the shrine, was a massive staircase of 24 steps that led up between to 2 engaged Corinthian columns to a room whose ceiling was supported by 2 free-standing Corinthian columns. The building was highly ornamented.
---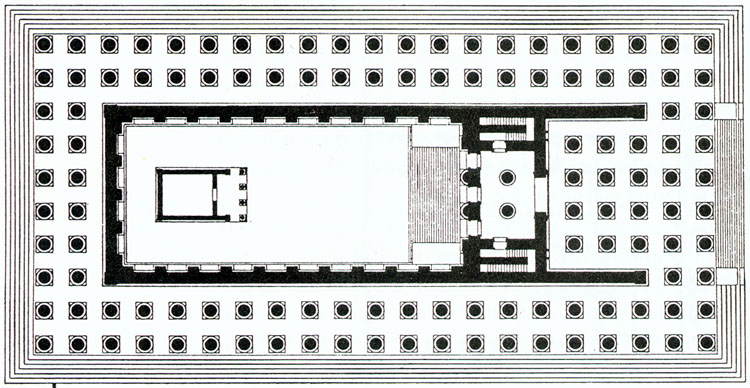 Temple of Apollo, Didyma: Plan

Temple of Apollo, Didyma
Interior court: view towards the east with the foundations of independent Ionic temple