Christopher L.C.E. Witcombe
The Course
This course will examine the art of ancient Greece from the Bronze Age to the Hellenistic period. It will also study important archeological sites and reflect on the role played by archaeologists and art historians in the reconstruction of the past and the ways in which Greek art has been interpreted and explained in the modern era.

Meeting Time and Place

Monday afternoons from 1:30 to 4:00 in Pannell 202

Required Textbook

Greek Art and Archaeology
Christopher L.C.E. Witcombe
2018

The textbook for the course, Greek Art and Archaeology, is provided free in the form of an iBook. Also provided on a contractual loan basis is an iPad, if needed.

Student Responsibilities / Requirements

Active class participation, which includes being prepared for each class and taking part in discussion.

Two Essays, for inclusion in an iBook: Essays on Aspects of Greek Art and Archaeology

GUIDELINES:

Each essay should be the equivalent of 4-to-6 pages in length and illustrated with at least four high quality, fully captioned images selected from Wikimedia Commons. Images and captions can be compiled into an iBook Gallery, organized into a Keynote presentation, or composed into an iMovie.
Extensive research is expected. Search for information in books in the library and through Interlibrary Loan, in articles through JStor, in qualifying essays online, and in entries from pertinent museum websites. All sources should be listed in a Bibliography on a separate page.
Text and captioned images should be sent to me by the specified deadlines. I will insert the material into the iBook and make it available for you to download.

SCHEDULE:

FIRST ESSAY (Aegean to Orientalizing)
Select the first topic from the contents of Chapters 1, 2, 3, 4, 5, 6 in Witcombe

Hard copy due Monday, FEBRUARY 19
Returned for revisions Monday, FEBRUARY 26
Final revised digital copy due Friday, MARCH 2

Select a topic from the contents of the following list of chapters:
CYCLADIC

Women in Cycladic Art
Figurines of Musicians in Cycladic Art

MINOAN

Minoan Pottery Decoration Margaret Lamphier Meier
Minoan Figurines (Forms of Dress and Actions)
Bulls in Minoan Culture Catherine Bray
Minoan Architecture
The Palace at Phaistos
The Phaistos Disc Sarah Hoeing
The Aghia Triadha Sarcophagus Phoenix Brown
The Harvester Vase
Minoan jewellery
Women Archaeologists on Crete Bailey Goebel
Women in Minoan Art and Culture Shelby Benny
Frescoes in the House of the Ladies, Akrotiri
The Ship Procession Fresco, Akrotiri

MYCENAEAN

Priam's Treasure
Mycenaean Pottery
Shaft Graves at Mycenae Rachel Ransone
Mycenaean Tholos Tombs
The Vaphio Cups
The Mycenaean Megaron
The Pylos Combat Agate Melissa Vandiver
Women in Mycenaean Art and Culture

PROTOGEOMETRIC (c. 1050-900 BCE)

Findings at Lefkandi
Protogeometric Pottery

GEOMETRIC (c. 900-700 BCE)

Dipylon Vases Jordan Elliott
Geometric Sculpture
Women in Geometric Art

ORIENTALIZING (c. 700-600 BCE)

Orientalizing Pottery Decoration
Orientalizing Sculpture
Women in Orientalizing Art
SECOND ESSAY (Archaic to Hellenistic)
Select the second topic from the contents of Chapters 7, 8, 9, 10 in Witcombe
Hard copy due Monday, APRIL 16
Returned for revisions Monday, APRIL 23
Final revised digital copy due Friday, APRIL 27
Select a topic from the contents of the following list of chapters:
ARCHAIC (c. 600-480 BCE)
The Male Nude in the Archaic Period
Statues of Women in the Archaic Period
Archaic Temple Design
Medusa and the Gorgons
Archaic Black-Figure Pottery Decoration
Archaic Red-Figure Pottery Decoration
Exekias: Master Painter and Potter
Archaic Red-Figure Pottery
CLASSICAL (c. 480-400 BCE)
The Riace Warriors Melissa Vandiver
Images of Athletes in Ancient Greece Margaret Lamphier Meier
Grave Markers: Remembering the Dead in Ancient Greece Jordan Elliott
Building the Parthenon
Elgin Marbles
Battle of Lapiths and Centaurs Catherine Bray
Stories of Herakles on Painted Pottery
Stories on Greek Vases Bailey Goebel
White-ground pottery
FOURTH CENTURY (c. 400-323 BCE)
Mausoleum of Halikarnassos Rachel Ransone
Amazons in the Ancient Greek World
Battle of Greeks and Amazons
HELLENISTIC (c. 323-31 BCE)
Great Altar of Pergamum Sarah Hoeing
Battle of Gods and Giants
Battling the Gauls: The Attlid Monument
The Story and Statue of Laocoön Shelby Benny
Victory Figures and the Nike of Samothrace
Aphrodite of Knidos: The Goddess and Her Statues
The Design and Functioning of Greek Theaters Phoenix Brown
Hellenistic Temples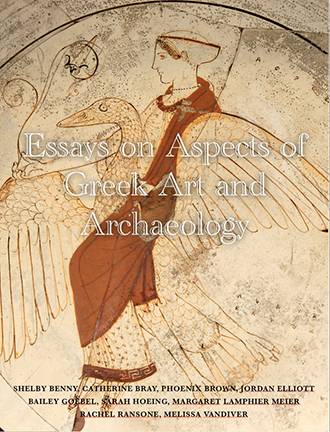 Essays on Aspects of Greek Art and Archaeology
Shelby Benny, Catherine Bray, Phoenix Brown, Jordan Elliott, Bailey Goebel, Sarah Hoeing, Margaret Lamphier Meier, Rachel Ransone, Melissa Vandiver
(2018)
Attendance
Regular attendance is required at all class meetings listed in the schedule. If you unable to attend a class meeting, you must inform me by email in advance. Unexplained absences from class meetings may result in a lowering of your grade.
Grading
First Essay = 40%
Second Essay = 40%
Participation & Attendance = 20%
PLEASE NOTE: Any requirements not fulfilled at the end of the semester will result in a notice of failure for the course
Office
Pannell 203 (meetings by appointment)
phone: 6194
email: witcombe@sbc.edu
---
© Christopher L. C. E. Witcombe