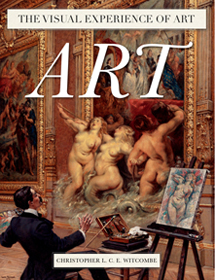 Christopher L.C.E. Witcombe

The Visual Experience of ART

* * *

To view this eBook, you must have an iPad with iBooks 3 or later and iOS 5.1 or later, or a Mac with iBooks 1.0 or later or OS X 10.9 or later. Multi-touch books can be read with iBooks on your Mac or iPad. Its interactive features work best on an iPad.
The Visual Experience of Art is a new type of art history textbook with over 190 tap-to-enlarge images, over 30 interactive features, and video
Description
The Visual Experience of Art investigates how you visually experience art. It examines how your eyes see and how your brain looks at the various components of different types of art. It explains how you gather impressions and make associations, how you perceive meaning, and how art affects your thoughts, stimulates your emotions, and enhances your life experiences

Print Length: 170 pages
Size: 230 MB
Language: English
Contents

Introductory Video
Chapter 1

Chapter 2

Chapter 3

Chapter 4

Chapter 5

Chapter 6

Chapter 7

Chapter 8

Chapter 9

Chapter 10

Chapter 11

Chapter 12

Chapter 13

Chapter 14

Author & Resources